R E T H I N K I N G   C H R I S T M A S
​​​​​​​
This was a very exciting project as the brief was set by Hallmark cards, and it was amazing to work with such an iconic brand. The task was to rethink christmas, and create a product that focuses on personalisation. 
In a small team made up of myself, a graphic designer, a textile designer, and an illustrator, we chose to rethink the card giving experience. We all felt that existing options in the festive card giving industry left little room for personalisation, and the poor retail experience made card buying a dreaded chore, rather than an exciting activity. The short term, disposable nature of festive cards also left a sour taste in our mouths, as this waste causes huge damage to the environment. 
To solve these issues, we designed a product that went hand-in-hand with a new in-store personalisation experience. The product itself is a card that has multiple layers of customisation, including different paper, scents, and handmade designs, allowing consumers to take the time to really consider what the recipient means to them as they curate a one of a kind gift.
The paper is quite literally the backbone of our product, and as a result it was vital that we focused on achieveing a high quality product. To combat the huge waste and environmental damage that comes with the short term card industry, we chose to make our own paper out of recycled materials, in this instance - egg cartons. Keeping with our environmental theme, we also experimented with blending various nuts, flowers, and other natural ingredients in with the paper pulp; This gave us some great textures, and in the case of some flowers, beautiful colour bleeds.
T H E   S C E N T   P R O T O T Y P E S
Smell is one of the most important senses, and it has the strongest connection to one's memory. As a result, we knew we had to incorporate scent into the card. An idea to spray various onto scents evolved into one of the main sections consumers will interact with to personalise the product. We developed nearly 20 different scents to fit a wide range of personalities, these included christmas themed scents (such as candy canes, gingerbread, orange and clove, and cinnamon and sugar), natural scents (like sandlewood or thyme) and a range of silly scents (including Lynx Africa, chicken gravy, and brussel sprouts).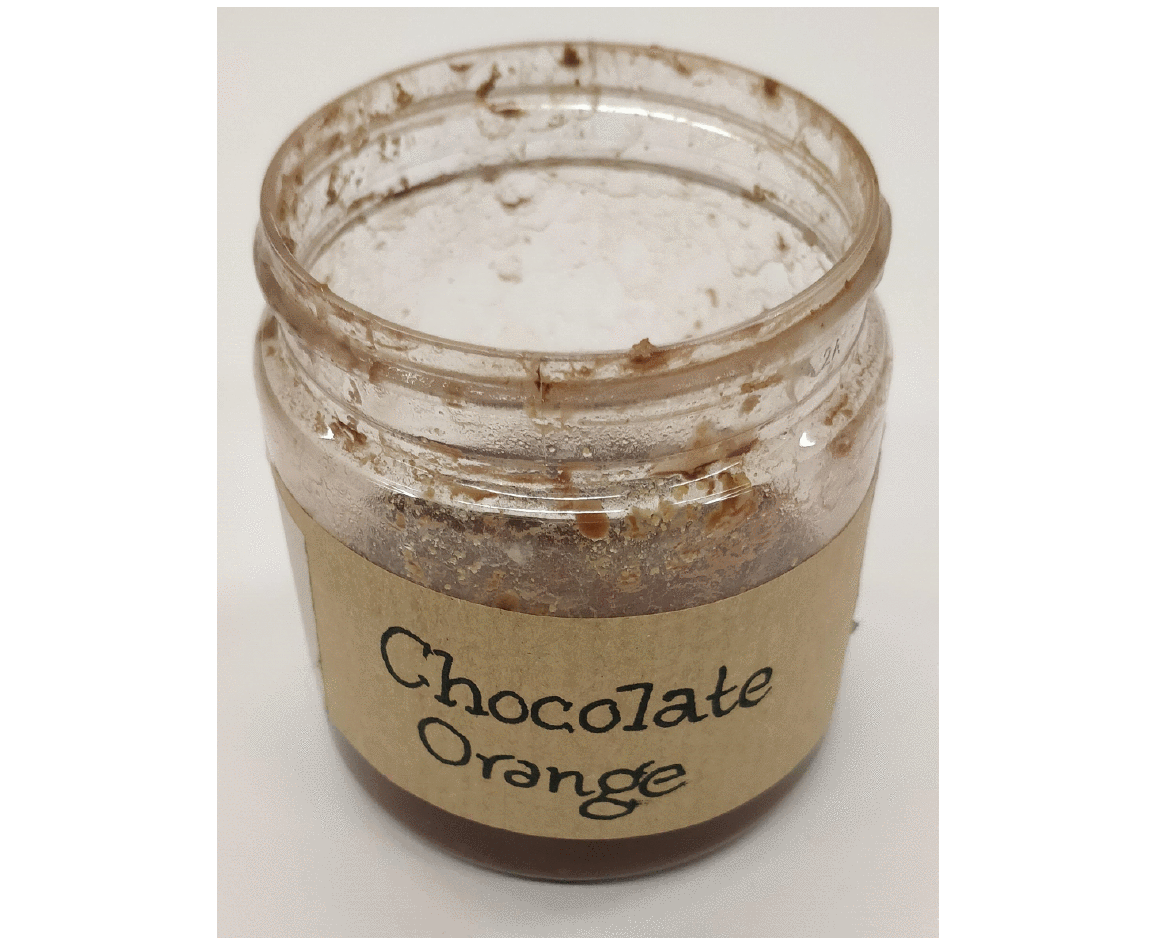 T H E   F I N A L   S C E N T S
Unfortunately, while these scents were extremely powerful and moving when we first created them, a large portion of the scents faded or became worse over a short period of time. We re-developed some of the key scents using different blends of various essential oils, allowing us to create powerful scents that would'nt fade or go off. These scent mixes were put into a ball of cotton to hold the scent, and then wrapped in a range of fun, hand crafted fabric ornaments. These ornaments were designed to be removed from the card, giving the card a second, longer lasting and more functional use.
We wanted card buyers to have a truly custom design on their card, but we were aware that the majority of buyers wouldn't want to be thrown in to customising completely on their own. As a solution, we created a range of beautifully illustrated stamps that customers can use. They can do a single minimalist stamp in the centre of the card, or use every single stamp until there isnt a centimeter thats uncovered, the options are endless.
T H E   F I N I S H E D   C A R D
The finished product is a highly personal card with a natural, hand crafted aesthetic. The different papers come in various colours and all come with differnt natural ingredients mixed in, no two cards will be the same. The nature of different options being available means cards will all be different, but they all have a common look, leading to an unmistakable brand identity.
T H E   R E T A I L   E X P E R I E N C E
The key componant to tie the products together is the retail experience. Styled after christmas market stalls, the station's classic wood aesthetic stands out from the dull white walls, floors, and shelving seen in most supermarkets. The stall let's consumers work their way along a step-by-step process to create a highly personal card. Starting off with the paper of their choosing, customers then pick their desired scent, stamp their patterns, write their message and then post it in the convenient in-store postbox.